This shop has been compensated by Collective Bias, Inc. and its advertiser. All opinions are mine alone. #SkinEssentials #CollectiveBias
As a young female, I'm self-conscious about my acne, especially at college. I want to be able to enjoy college without worrying about my acne flaring up. As a generation, we've been told to be the best we can be and that there isn't anything we can't do. And the truth is, no one's putting more pressure on us to look great than us. But as young women, we don't need to stress about what Mother Nature gave us… Instead, we take action! From prioritizing our facial care products to getting the best grade our first assignment, I'm going to share a few tips and tricks that will help you feel and look fabulous this back-to-school season!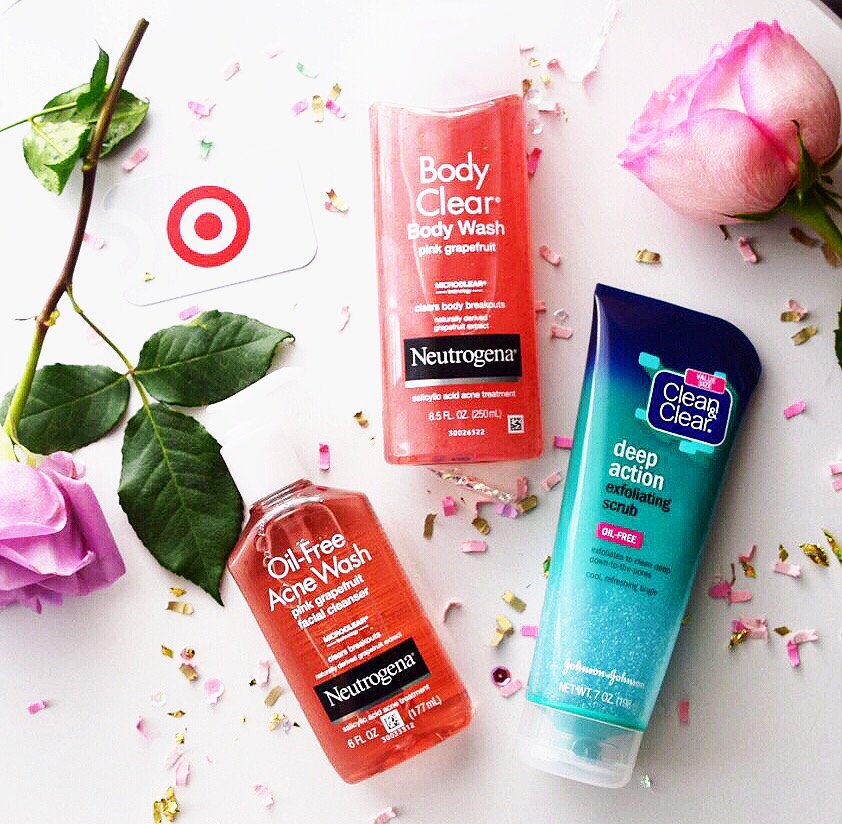 Keep Your Skin Looking Flawless
When I was in high-school, my skincare was horrible. I would go to bed with my makeup still on and my strategy to get rid of zits was to cover them with more makeup. I was so self-conscious about how I looked and it definitely made high school a hard time for me. Needless to say, I have found great skincare products that actually improve my self-esteem and skin. So in efforts to look and feel fabulous this school year, I headed to Target to pick up my skincare essentials!
I seriously love Target! Shopping at Target is one less thing I have to worry about since they carry all the brands I love and use daily ! Plus, I love how clean and organized the beauty section is in the store.
The best way to keep your skin looking flawless is to actually cleanse your skin. I use Neutrogena® Body Clear® Body Wash Pink Grapefruit to help treat my body breakouts. I have a tendency to break out on my arms and even on my back. The oil-free acne body wash actually treats and helps prevent body acne with an uplifting blast of pink grapefruit. For my face, I use Neutrogena® Oil-Free Acne Wash Pink Grapefruit Facial Cleanser! I love how the facial cleanser is oil free and has the maximum strength of Salicylic Acid acne medicine to powerfully prevent and treat breakouts- even blackheads! It also contains Vitamin C to eliminate oil and it as well as rinses clean without over-drying! These are my essential skincare products and should be on everyone's back to college shopping list!
Also, you should totally download the Target Cartwheel! It gives you rewarding ways to save and great offers during August on all your favorite Neutrogena® Cosmetics! You can Save 20% on Neutrogena® cosmetics every weekend in August, Thursday-Sunday, on Cartwheel! Plus, if you buy 3 Neutrogena® facial skincare product, you get a $5 gift card!! How awesome is that?! Ohh but it gets better! Buy one Clean & Clear® product, and get one 25% off! Wohoo!
Get Rid of Big Zits
Sometimes despite how proactive we are, we get thrown those big ugly zits. Whatever you do, do not pick your face! Sometimes you will get that huge massive zit that could pop any minute so we must have a little intervention. Soak your face with a warm washcloth for five to ten minutes. Then use Clean & Clear® Deep Action Exfoliating Scrub to invigorate your skin by cleansing your pores deep down while gently exfoliating the surface of your skin. You will start to feel a fresh tingly, cooling sensation as you gently massage the scrub on your skin. It's like you literally feel the deep cleansing action revitalizing your skin! It's amazing and will definitely help you get rid of the big zits!
Under Eye Bags
Whether you stayed up the night before to study for a test or you just woke up on the wrong side of the bed, you can reduce your puffy eyes by holding the back of a cold spoon to each lid for about a minute, or by using a refrigerator-chilled gel eye mask. To camouflage dark rings, use a yellow-based concealer. But don't rub it with your fingers, make sure to dot it on with a makeup brush!
Slimming Styles for Bloated Days
Some of you may have already heard that wearing all black can work wonders when you are carrying a few extra pounds. Well, it's true. However, you can also add some color to your outfit under your black jacket or blazer! Also, another great trick is to wear a V-neck top. It will slim you down and draw attention away from your hips as well as an A-line skirt. Did you know that fuller pant legs can also hide your thighs? Just throw on a pair of heels to help visually shave off a few extra pounds!
When Good Makeup Goes Bad
Unlike food, cosmetics don't have an expiration date on them. From the moment you first open it, bacteria will start to grow and its effectiveness will decrease. Keep your makeup in a dry and cool area. If any of your makeup starts to change texture or smell funny, toss it out!
No matter how awesome my outfit may be, if my skin looks blemished, blotchy, or just plain blah, I instantly don't feel confident about myself. The trick is using the right products. I've used Neutrogena® Body Clear® Body Wash, Neutrogena® Oil-Free Acne Wash Pink Grapefruit Facial Cleanser, and Clean & Clear® Deep Action Exfoliating Scrub so many times and they have all worked so well! They all clean, protect, and nourish my skin throughout the school year to help me look and feel fabulous! Click to learn more about
Neutrogena®
and
Clean & Clear®
! Make sure they are a priority on your back to school shopping list this year!
This post is sponsored by CLEAN & CLEAR® and NEUTROGENA®. I only recommend products I use personally and believe my followers will also enjoy! Some of the products mentioned were provided by CLEAN & CLEAR® and NEUTROGENA® for this review