This shop has been compensated by Collective Bias, Inc. and its advertiser. All opinions are mine alone. #nothinglikeahug #CollectiveBias
It doesn't matter the theme of the party, I always try my best to give practical gifts! I think it has a lot to do with the fact that I personally love getting practical gifts. When my first nephew was born, my sister-in-law truly appreciated all the everyday gifts – especially the diapers and wipes. So when I got the invitation to my co-workers baby shower, I already knew what I wanted to gift her! However, I didn't just want to give her a box of diapers and wipes. I wanted my gift to be very practical yet of course crafty and fun! So I decided to make a diaper cake with some awesome Huggies® products!
Huggies® was my sister-in-law's favorite brand when my nephews were in diapers. Did you know that Huggies® Little Snugglers is the fastest growing brand in hospitals? That's because they help keep your newborn's perfect skin clean and healthy. If you think about, a diaper is on your baby all the time. Therefore, nothing is more important than how it feels against their skin. Luckily, Huggies diapers are designed to give your little one a comfy fit, no matter what stage your baby is in. From newborn all the way through potty training, Huggies® has something for your baby every step of the way - like a hug they can take with them. That's why
Huggies®
is a brand that moms can trust.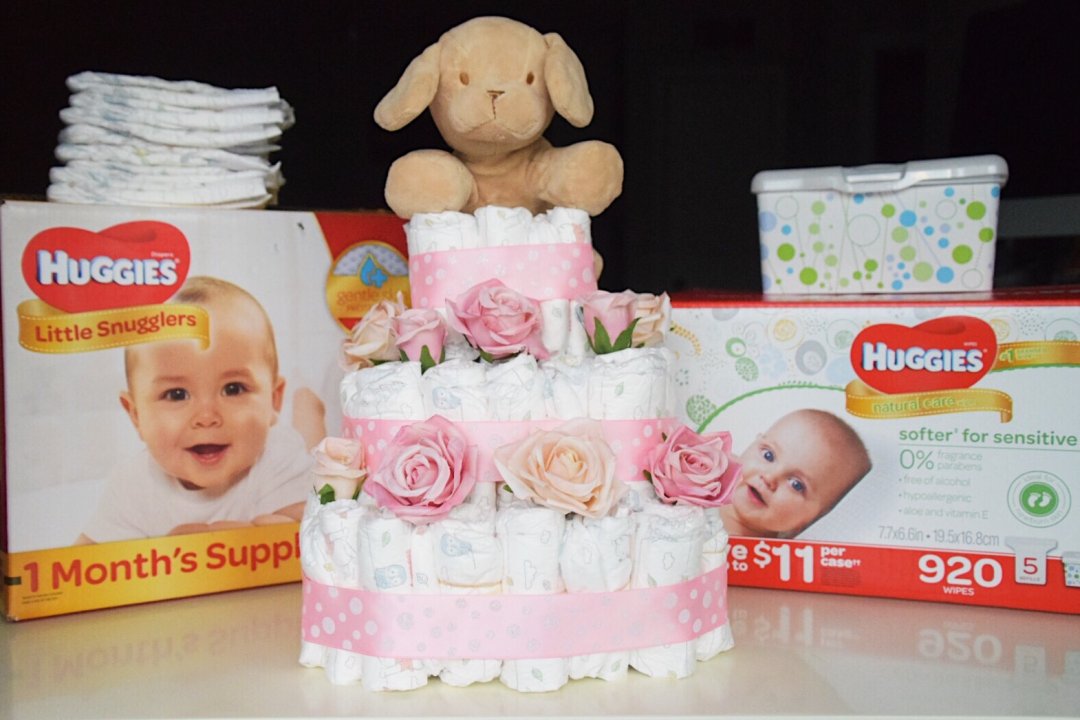 You can shop the image above to shop for Huggies® at Sam's Club! This holiday season, you can take advantage of the limited time instant savings offer on Huggies® Diapers, Pants and Wipes at Sam's Club. I love being a Sam's Club member because I can take advantage of the already low prices all year long! You not only save money when you shop at Sam's Club but you also save time. By saving time, you are able to spend more moments with your family. So discover the best value on Huggies® Diapers, Pants and Wipes for your growing family at Sam's Club and enjoy the instant savings on Huggies® items! Buy any 1 Huggies® product at Sam's Club and get $4 in Instant Savings. Valid 12/1 – 12/25 | Get an additional $4 savings through Ibotta when you buy Huggies at Sam's Club. Click
here
to learn more!
Supplies:
Huggies® Natural Care Wipes
Huggies® Little Snugglers
Rubber bands
Ribbon
Miscellaneous decor to suit your design
Step 1: Roll up all the diapers with the rubber bands.
Step 2: Wrap a rubber band around a pack of Huggies® Natural Care Wipes and start adding diapers. It should be about 25 diapers.
Step 3: For the next tier, you will add a additional diaper to create the center. You can either leave this layer sitting on top or use a push pin to secure it.
Step 4: Repeat the process but with only 6 diapers to create the 3rd and final tier.
Step 5: Decorate! I added ribbon to all tiers, place flowersaround the cake! For the top I added a cute baby bear. It also helps that the Huggies® diapers come in adorable Disney Designs.
A baby shower isn't complete unless you have a diaper cake, diapers, and wipes! Making diaper cakes are so much fun, especially when you can make it unique to fit the new mom's style. You will be surprised how easy it is to make, yet everyone is sure to be impressed. Not only is this cute, but it also is useful, because who doesn't need a top of diapers and wipes for their newborn?
Make sure you create the best diaper cake for the new mom by using Huggies® products! Explore  Huggies® Little Snugglers and Huggies® Natural Care Wipes at your local Sam's club, and take advantage of the instant savings this holiday season! For more product information, and inspiration, stay up to date with the brand and follow them 
here!