This post was sponsored by Amazon Handmade as part of an Influencer Activation for Influence Central and all opinions expressed in my post are my own. #AmazonHandmade
I cannot tell you enough that choosing the right gifts for my loved ones has been difficult this year! It seems like most of them already have absolutely everything! The last thing I want to do is spend money on a gift that's just going to sit on their shelf or something they will never use. That's why I decided to buy some gifts from Amazon Handmade this year. If you're like me and looking for something special and not only unique but one of a kind, then you might want to think about giving a handmade gift from
Amazon Handmade
instead of purchasing something from the store.
Amazon Handmade
should be on everyone mend this holiday season when it comes to finding handcrafted, unique gifts all while supporting small businesses at the same time! You see, Amazon Handmade brings the customer-centric experience and convenience, including Prime two-day shipping, and everything customers love about Amazon to the world of handmade items! You can find a various selection of giftable and customizable items on Amazon Handmade. In fact, more than 50% of their selection is customizable and made-to-order!
The purpose of giving handmade gifts is to give something that is personal and individual to the person receiving the gift. You give a particularly meaningful gift. So today I'm going to share three incredible gifts I purchased from Amazon Handmade and three reasons why I loving gifting handmade gifts!
1. They Are Thoughtful
Every gift should show the person receiving it that the giver has really put thought about them into the gift. The gift should show that the giver knows them well enough to find something that truly suits their character and their hobbies perfectly! Anytime you gift a gift it's an expression of love from one person to another. When you decide to give a handmade gift to somebody important to you, you're sending them the message they were worth the time you spent in creating or customizing that gift.
My brother, Jeff, collects flasks and I have never been able to find any that were unique enough to add to his collection. I started to browse on Amazon Handmade and found the perfect flask for him! Not only could I customize the flask but I could get it engraved! My brother is going to absolutely love this gift and I feel great knowing that I specifically found the perfect flask for his collection!
2. They Are Personal
If you've ever had to look everywhere for the perfect gift for a picky person, then you'll understand the significance of a handmade gift is personal. When you choose Amazon Handmade, you can choose colors (or fragrances or flavors) you know your loved one will appreciate and enjoy. You can measure or choose your own colors; you won't have to worry about it being the wrong color, the wrong size, or the other type. You can make all of these decisions for the person who will be getting the gift and because it's so personalized, and it will be perfect!
My brother, Brandon dates a sweet girl named Heather. I was struggling so hard to find her the perfect gift this holiday season so I started to browse through the shops on Amazon Handmade and found the perfect cosmetic bag! It's personalized with her initials but I also got the bag in her favorite color! I'm so excited for her to open my gift this year!
3. They Are One of a Kind
Any gift that is handmade and/or is customized is one of a kind. No two creations will ever be the same as one another, and this gives each piece special meaning. Even if you buy the same gift, the personalization will be different. Very few gifts feel as nice as receiving something that you know someone put time into creating specifically for you. This introduces an incredible "love" to these amazing gifts. Ask anyone who's ever had a one of a kind gift made specifically for them.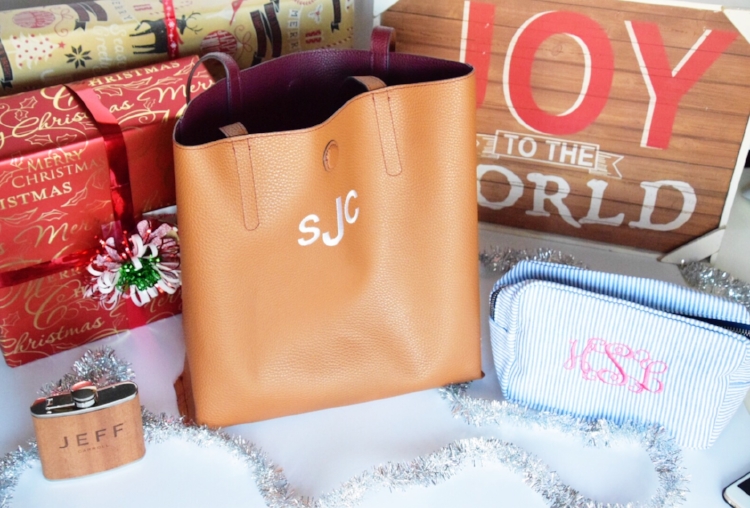 When I was growing up my mother once told me not to give anyone something I wouldn't like to receive myself: This is a good rule of thumb with handmade gifts. If it's not something you would love to get from one of your loved ones, then you shouldn't gift it to somebody either. Nothing hurts more than giving a gift to give someone that they don't want. This can be pretty tough especially for those who seem to already have everything. So if you're looking for not only unique but one of a kind, then make sure you gift handmade gifts from
Amazon Handmade
instead of purchasing something from the store.