This shop has been compensated by Collective Bias, Inc. and its advertiser. All opinions are mine alone. #TryTENAMEN #CollectiveBias
As a military wife, I'm constantly making new friends, especially new neighbors. When Andrew and I moved half-way across the country, we were surrounded by new neighbors. Fortunately, we bought a home in a small neighborhood where everybody knows each other. A few weeks after we moved into our new place, we meet an older man that lived across from us. He was out walking his dog one afternoon when we met and he asked if my husband, Andrew, could help him take his trash out. It was clear that he needed some help around his house. Ever since then, Mr. Metiva has been like family to us.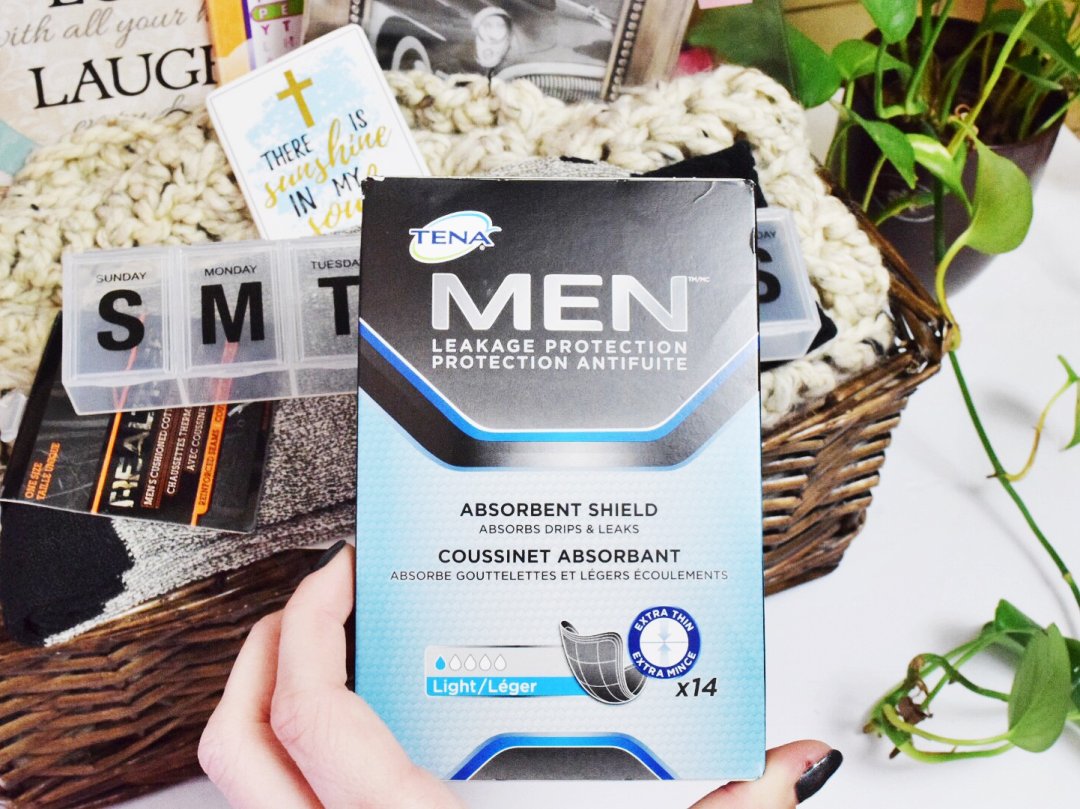 Unfortunately, Mr. Metiva lives alone and his children don't live nearby so Andrew and I have unofficially become his caregiver. The other day I was shopping at CVS and saw his favorite chocolate on display. I instantly thought of him and was inspired to create a small gift basket for him. You can shop the image above!
I'll never forget when Mr. Metiva asked me if I plan to change Andrew's "diapers" when he gets older. I just laughed but I knew that he was probably dealing what that issue himself. Mr. Metiva has a great sense of humor. So when I was my local CVS, I was inspired to share with him that he doesn't need diapers to feel confident and secure. With TENA® MEN™, nobody but him would ever know that he had an incontinence problem. They are anatomically designed for men with adhesive strips for added security. I decided TENA® MEN™ Protective Shield would be perfect for his gift basket!
Did you an estimated 3.4 million men experience the Unexpected Leak™? TENA® MEN™ Protective Shield is ultra-thin, secure with a cup shape that follows the male anatomy for a secure fit that provides light protection. They are designed with an ultra-thin thickness for comfort and a muted color for discretion, this product will protect against light drips and dribbles while letting you remain comfortable and secure. While at CVS, I also picked up some other items I thought he would enjoy. I bought his favorite chocolate, an inspirational magnet, a calendar, picture frame, cozy socks, a book full of inspiration, a pill organizer, and the basket.
Once I got home, I decided to crochet him a blanket. Although we live in Houston, he is always complaining about the cooler weather heading our way this season. As I crocheted, I started to think about caregivers and all of their time spent helping others. Did you know that November is Caregiver Awareness Month? The contribution of informal caregivers of seniors often goes unrecognized.
CVS
is now offering now offering Buy 1 TENA product at CVS, Get 1 @ 50 % OFF - Week of 10/22/2017 - Valid In-Store and Online. I truly believe these new TENA® MEN™, Protective Shields are perfect for men to live confidently in their everyday lives without worrying. Make sure you explore TENA® MEN™, at your local CVS and give the best gift that truly helps men live their life comfortably and in confidence! 
For more product information and inspiration, follow them on
Facebook!
Are you a caregiver? What do you do to make the person or people you care for feel special? Let's chat below!