This shop has been compensated by Collective Bias, Inc. and its advertiser. All opinions are mine alone. #SnackItAndPackIt #SeasonalSolutions #CollectiveBias
For as long as I can remember, I've always been excited about Halloween. Even as a young child, I was always so excited to dress up with my brothers and go trick-or-treating around our neighborhood. Fast forward to adulthood and I am just as excited about Halloween! Each year I look forward to all the Halloween festivities, especially all the creative decorations and costumes! I truly believe many adults love Halloween because it gives us an excuse to play dress up and to decorate our homes. Even at work, we love to get festive!
Last week, while shopping at my local Kroger, I spotted some really awesome goodies and my creative juices started to flow. Kelloggs® Snack Packs like Keebler® & Cheez-It® Variety Pack, Kellogg's® Rice Krispies Treats® Original, Pringles® Original, Keebler® Cookie Mini Fudge Stripes and Cheez-It® Variety Pack are perfect for the Halloween Luncheon at my work! Everyone loves them and they are my personal favorite snacks! You can visit any Kroger or Kroger banner store!
Each year, my co-workers and I start to plan the Halloween luncheon in early October. We love the fun, spooky-themed menu items that really get us into the Halloween spirit! This year, I decided to host the entire luncheon myself! I decided to add a few new items into the Halloween recipe mix… Fall Trail Mix and Halloween Rice Krispies Treats!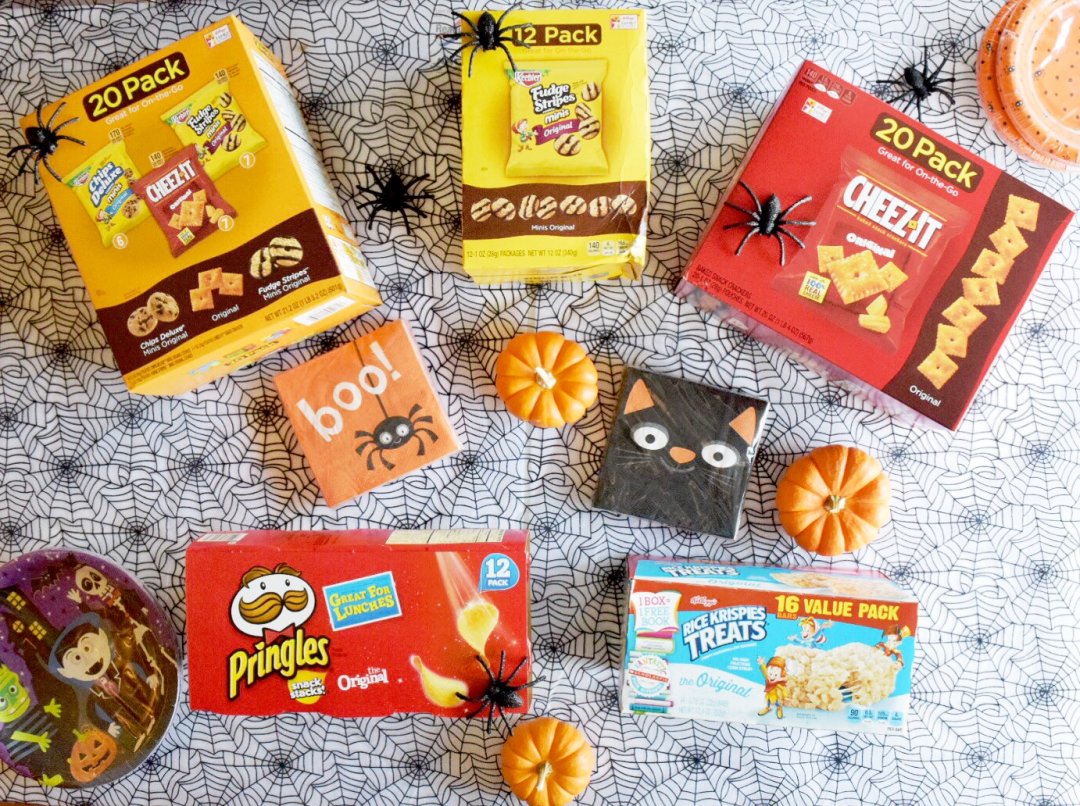 You can click the photo above to get these delicious treats!
Ingredients:
1 Cup of Crisp Rice Square Cereal
1 Cup of Crisp Wheat Square Cereal
1 Cup of Pretzels
1 Cup of Fall Candy
4 Snack Size Keebler® Cheez-It®s
4 Snack Size Keebler® Chips Deluxe Minis
Instructions:
Combined all the ingredients in a large bowl and serve!
The fall trail mix is so easy to make, especially with the individually packaged treats! I bought a box at Kroger, along with some fun variety packs of snacks to create the best fall trail mix yet! These were perfect to have on the table at the office for everyone to enjoy! A simple recipe but yet very festive!
Since I'm such a sucker for fun holiday and seasonal treats, I decided to get creative with my Kellogg's® Rice Krispies Treat®s, as well! The classic, yet delicious, snack has been making memories for generations! They are the perfect canvas to create a fun dose of excitement!
Festive Halloween Rice Krispies Treats
Ingredients:
6 Snack Size Rice Krispies Treats® Original
2 Squares of White Chocolate Almond Bark
2 Tablespoons of Festive Halloween Sprinkles
Instructions:
Warm the almond bark in a microwave safe bowl, according to the instructions on the package
Dip the Rice Krispies Treats half way into the bowl or spoon chocolate over each treat, covering the front.
Top with sprinkles!
Refrigerate until set.
I also added Pringles Snack Stacks and Mini Fudge Stripes to the table! The best thing about these single-serve tubs of Pringles®crisps is that you never feel the need to share. The Mini Fudge Stripes are baked to perfection in the Hollow Tree®! These shortbread mini cookies are striped with delicious fudge made from 100% real cocoa. They're great for snacking! I knew these would be perfect for our annual Halloween luncheon at work. It's a great variety for everyone to enjoy. Kroger has an entire aisle dedicated to multi-pack snacks.
If you're looking for quick and easy treats for an upcoming Halloween party or event, or maybe you just like to get caught up in the season and indulge a little, these recipes will definitely be perfect for you! They are super simple yet delicious and festive!
Make sure to check out great offers and limited time special pricing on Pringles Snack Packs and Keebler Cookie and Cheez-It Variety Packs at your local Kroger or Kroger banner store! Click
HERE
from now until 11/2 for a coupon to use on your next purchase and be sure to check out the selection at your local Kroger banner store.
Also, don't forget to check out the social hub
HERE
for more Kellogg inspiration!